About OWV
Welcome to the One Woman Equine Veterinary Services (OWV) main website. OWV provides care for pleasure horses, including general medicine, lameness, colic, emergencies, vaccination, dentistry, and castration. We also conduct pre-purchase exams and provide general reproductive services.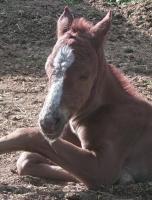 The main purpose of this site is to enhance education and information transfer with OWV clients, including secure access to x-ray images and photos. We will periodically post items of interest to our clients, including announcements of events or developments in horse medicine. We maintain a set of open-access client education pages, which may be of general interest to all horse owners.
OWV is located near Aromas, California USA. You may contact OWV at the following numbers:

831-239-5547 (appointments)
831-789-1705 (fax)

IMPORTANT MESSAGE: OWV is no longer taking new clients.
The following is a list of local equine veterinarians that help to cover emergency calls for OWV clients when Dr. Broomhall is unavailable.
Dr. Tom Meyers

Watsonville, CA, phone: 831-728-5118

Dr. Anne Terry

Santa Cruz, CA, phone: 831-763-3550

Steinbeck Country Equine

Salinas, CA, phone: 831-455-1808
You may contact OWV by email, using our convenient Email Forms, or by using one of the following telephone numbers. Please double check the availability of OWV personnel on the OWV Public Calendar.


Appointments: 831-239-5547

Call to make an appointment or discuss business issues.

Faxes: 831-789-1705

Please make sure Dr. Broomhall is aware of important faxes.
Dr. Broomhall is generally available to see your horse for scheduled appointments from Tuesday to Friday 9AM to 5PM, with limited scheduling on Saturday from 10AM to 3PM.
Dr. Broomhall is available for emergency after hours call all other times, except when Dr. Broomhall is ill or away on travel, or when other vets are covering her call. Please see Other Vets for a list of other vets that help to cover Dr. Broomhall's emergency calls.
Someone will generally be available to make new appointments and address general business issues from Monday to Friday, 9AM to 5PM (call: 831-239-5547).
Please note that we keep a public calendar giving the current availability of OWV personnel.
Dr. Natalie Broomhall

Owner and Practitioner
DVM: Purdue University School of Veterinary Med., 2000
MA: Stanford University School of Education, 1992
BA: Dartmouth College, 1987

Neil Klepeis

Information Technology
Emotional Support
OWV is located in Northern California midway between Santa Cruz and Monterey and about 8 miles south of Watsonville. We treat horses in the following areas:
North Monterey County (Aromas, Prunedale, Monterey)
West San Benito County (San Juan Bautista, Hollister)
South Santa Clara County (Gilroy, Morgan Hill)
Santa Cruz County
This section contains links to general information about OWV.