OWV is a small equine veterinary clinic in Northern California giving personalized care to pleasure and event horses.
Welcome to the One Woman Equine Veterinary Services (OWV) main website. OWV provides care for pleasure horses, including general medicine, lameness, colic, emergencies, vaccination, dentistry, and castration. We also conduct pre-purchase exams and provide general reproductive services.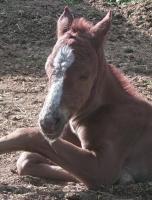 The main purpose of this site is to enhance education and information transfer with OWV clients, including secure access to x-ray images and photos. We will periodically post items of interest to our clients, including announcements of events or developments in horse medicine. We maintain a set of open-access client education pages, which may be of general interest to all horse owners.
OWV is located near Aromas, California USA. You may contact OWV at the following numbers:

831-239-5547 (appointments)
831-789-1705 (fax)

IMPORTANT MESSAGE: OWV is no longer taking new clients.
The following is a list of local equine veterinarians that help to cover emergency calls for OWV clients when Dr. Broomhall is unavailable.
Dr. Tom Meyers

Watsonville, CA, phone: 831-728-5118

Dr. Anne Terry

Santa Cruz, CA, phone: 831-763-3550

Steinbeck Country Equine

Salinas, CA, phone: 831-455-1808